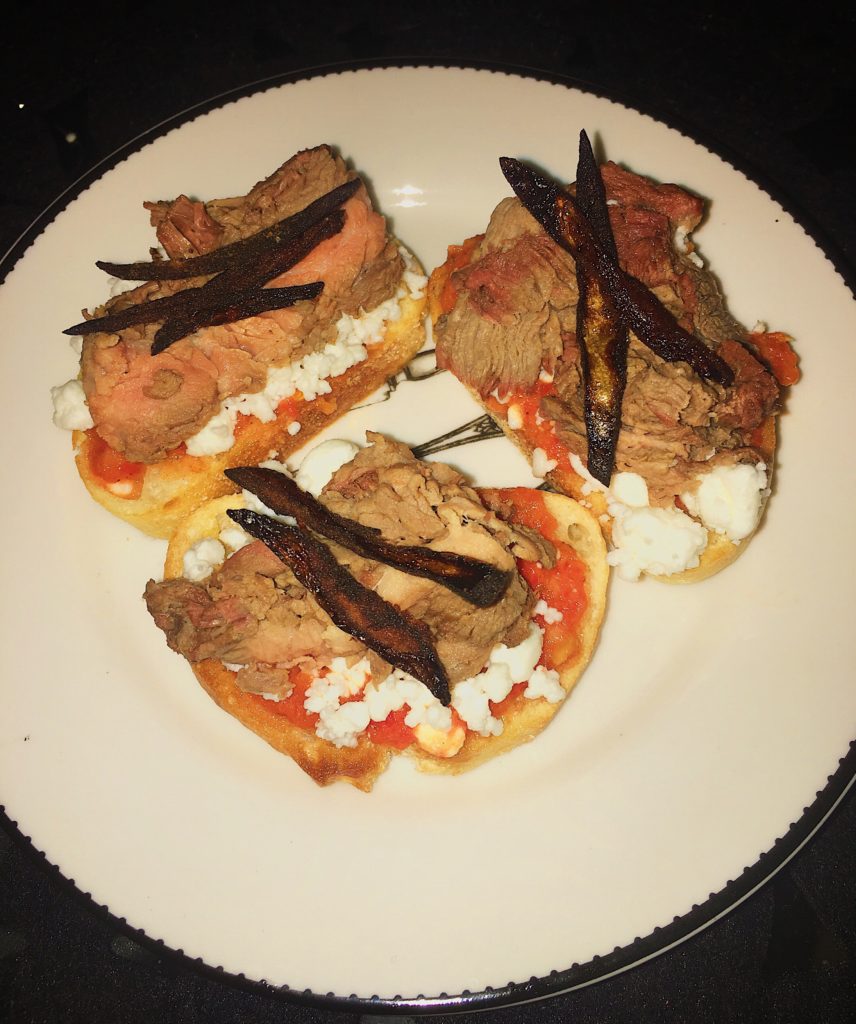 Tomorrow is Friday!!! We're almost there! Anyone have a party their hosting this weekend? It's starting to be that time of year when the graduation parties, engagement parties, bridal showers, weddings, etc. ramp up. If you're looking for a recipe to impress your guests this Flank Steak, Romesco & Goat Cheese Crostini is where it's at. It's also perfect for cookout season, because you can use leftover steak from the night before! Filet or flank work best for this recipe. I prefer flank, because you can slice it thin so easily.
For the crostini – I use the same method as in my other crostini posts. French baguette sliced into 1/3 inch slices. Brush with olive oil and bake at 400 degrees for about 10 minutes.
You'll also need romesco, a red pepper and nut based sauce. To make the one pictured here I used: roasted red pepper, garlic, tomato, almonds, apple cider vinegar, parsley, paprika, cayenne, olive oil, salt and pepper. Combine all ingredients except for olive oil in the food processor until smooth. Add olive oil and blend.
Lastly, you'll need goat cheese and crispy shallots. Slice shallots thin, coat in some flour, and fry up in oil. Arrange and serve! And trust me – you don't need to throw a party just to enjoy these. One of my favorite things to do is make an assortment of appetizers in place of dinner. Try it out!

Flank Steak, Romesco & Goat Cheese Crostini
Ingredients
12-16 oz flank steak, prepared medium-rare and sliced thin
1 french baguette
1 tbsp. olive oil
Romesco sauce (1 jar roasted red pepper, 2 garlic cloves, 1 tomato, ½ cup sliced almonds, 2 tbsp. apple cider vinegar, 1 tbsp. fresh parsley, 1 tsp. paprika, ½ tsp. cayenne, ½ cup olive oil, salt and pepper)
3-4 oz crumbled goat cheese
crispy shallots (shallot, flour, olive oil)
Instructions
Preheat oven to 400 degrees.
Slice baguette into ⅓ inch slices.
Brush with olive oil and bake on a baking sheet for about 10 minutes or until crispy.
Prepare Romesco sauce by placing all ingredients (except OO) in a food processor. Process and then add olive oil and continue to process until smooth.
Prepare shallots by slicing into thin strips, coating in flour, and frying in some olive oil in a skillet over medium-high heat. It should only take about 20-30 seconds.
Spread sauce over crostini. Sprinkle cheese over sauce. Add steak and crispy shallot to top.