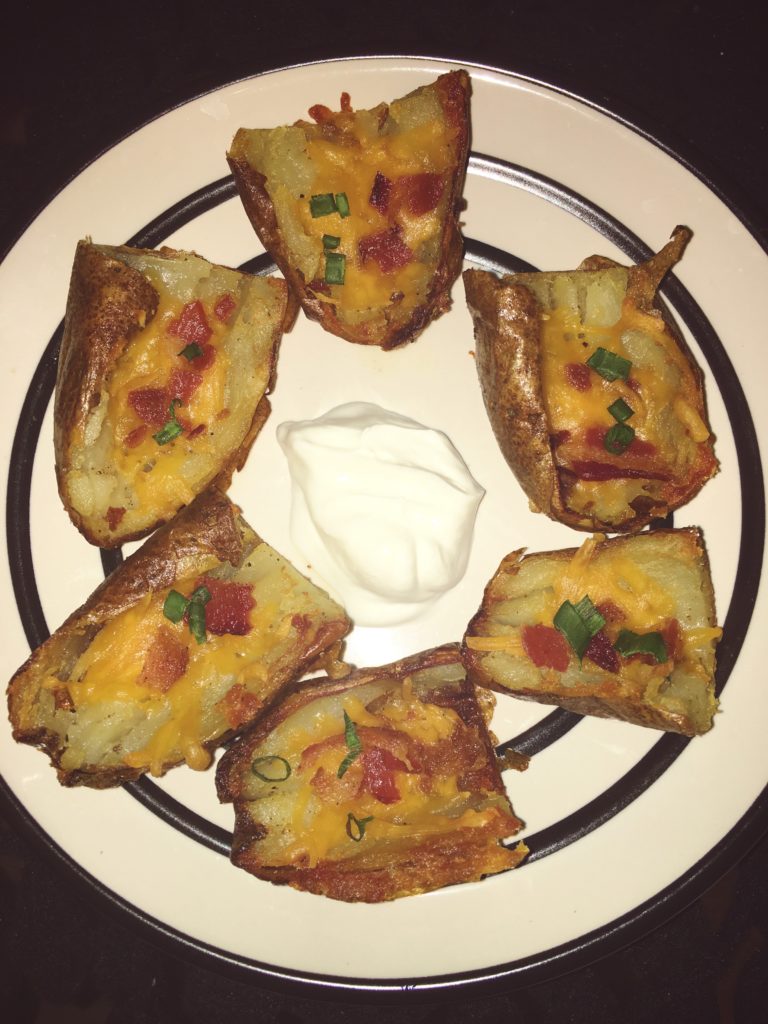 One thing I absolutely love about football season is having the chance to play host and make some of my favorite recipes for my friends and family. And you certainly can't throw a decent tailgate party without a bomb ass Potato Skin recipe.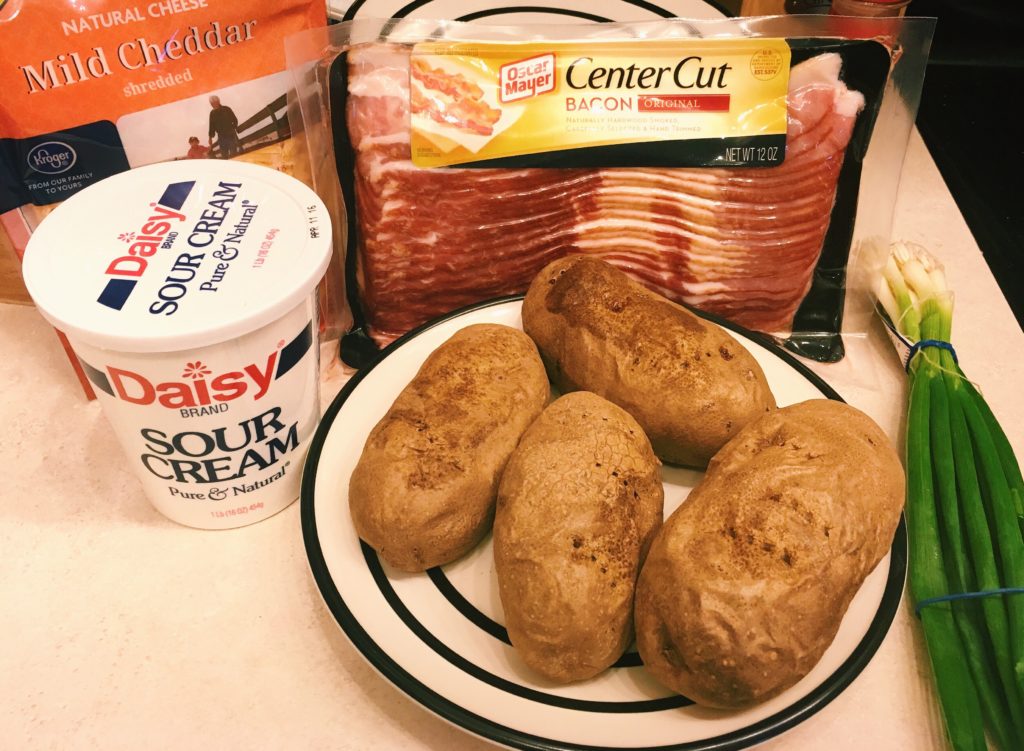 For this dish you will need potatoes, bacon, cheese, green onions, sour cream, olive oil, salt and pepper. Poke some holes in your potatoes and start by wrapping them in aluminum foil and baking for about 35-40 minutes at 400 degrees. While baking your taters, fry up your bacon. You can use any type of bacon. I prefer Center Cut, because it's slightly less fatty, and I can't taste the difference. Bacon bits also work great and are way less work, but I love the real thing. Once your potatoes are sufficiently baked, slice in half lengthwise and let cool. Scoop out most of the insides leaving about 1/3 potato filling in each half. I like to reserve the insides to accompany whatever I'm whipping up for dinner later that night (just leave them as is and heat back up for a baked potato side or transform them into twice baked potatoes – more recipes on this to come!). Or I'll even save them for a lunch/dinner side for the following day. Whatever floats your boat. I, however, will never let potato go to waste. Anyways, once you've semi-hollowed out your potato halves, cut them in half one more time (this time horizontally).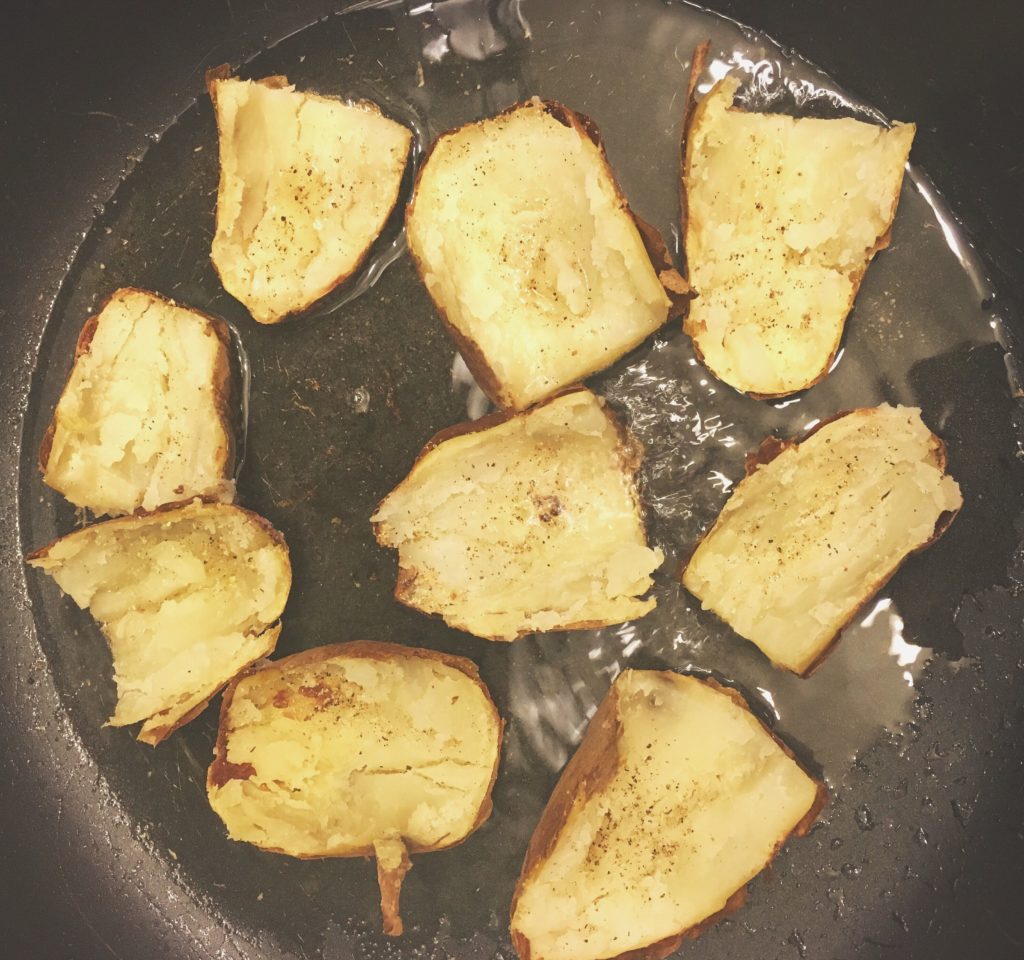 Add olive oil to a large skillet over medium-high heat. You'll want about a quarter inch of oil in the pan. Fry skins in batches so as to not crowd the pan. Season each side with a little salt and pepper while frying. You'll want each side to develop a nice golden brown color. I usually fry each side about 3-5 minutes. Transfer your skins to a baking sheet (sprayed with nonstick cooking spray). Sprinkle the inside of each skin with cheese and bacon. Place in oven for about 8 minutes.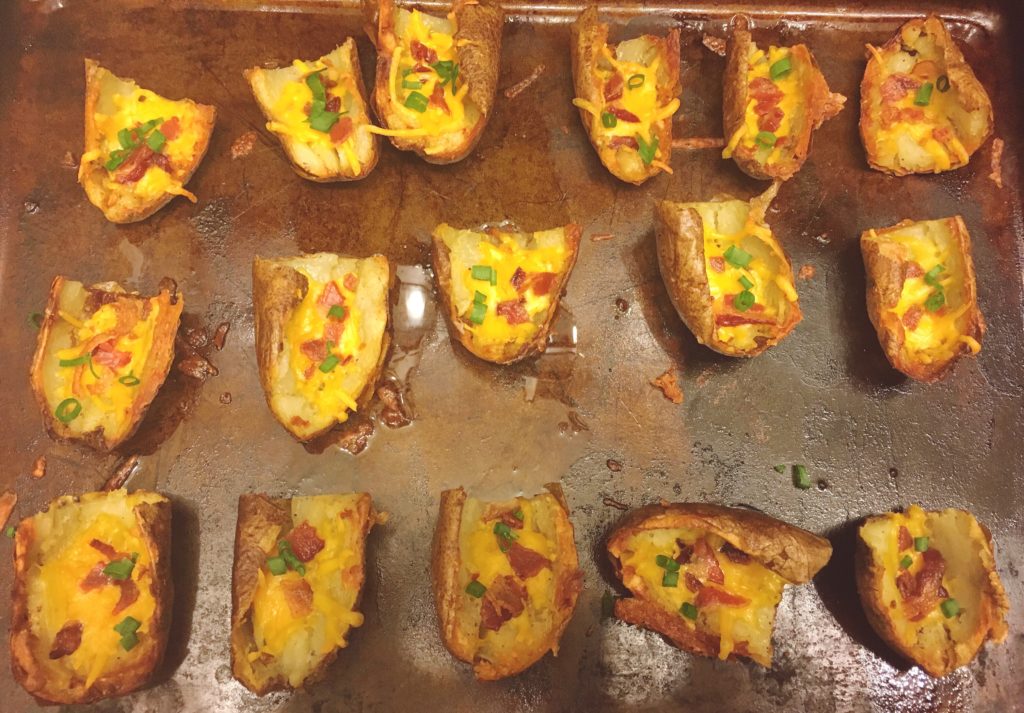 Remove baking sheet from oven once cheese is fully melted. Sprinkle each with green onions and allow to cool before serving.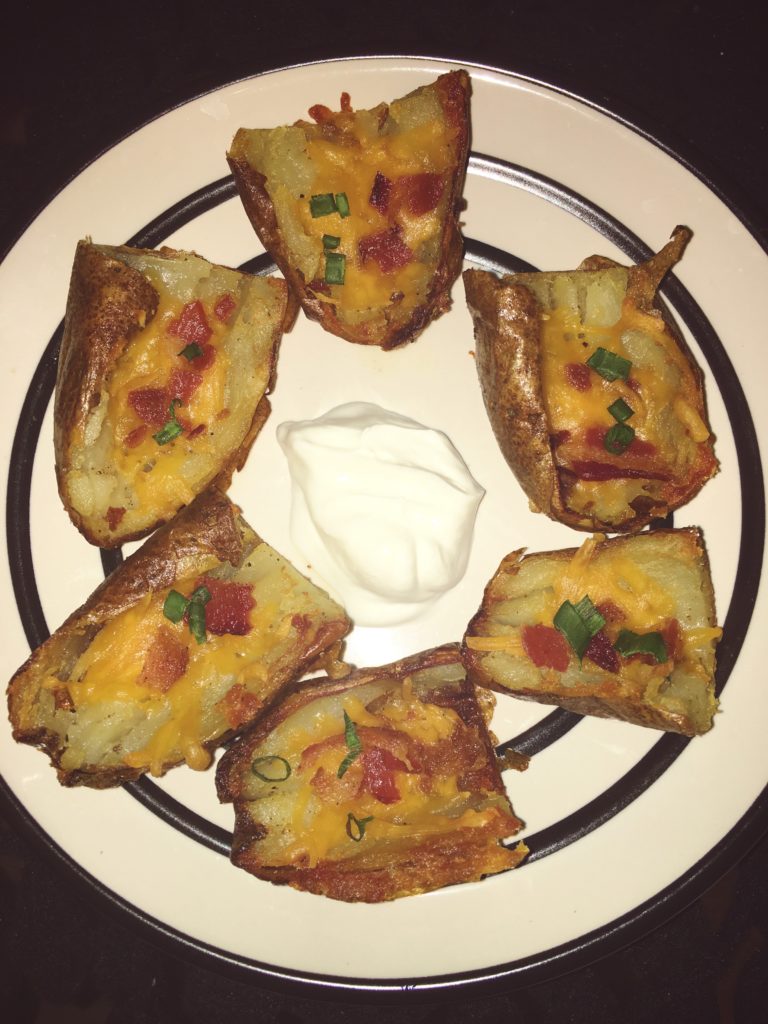 Serve with some sour cream. I like to leave mine on the side and allow my guests to add as much as they'd like. Enjoy this super easy tailgate recipe! Oh and did I mention the Bears finally won today? All is right in the world.

Potato Skins
Ingredients
4 large potatoes
4 slices of bacon, fried and crumbled
2 green onions, sliced
1 cup shredded cheddar cheese
olive oil, for frying
sour cream, for serving
salt and pepper
Instructions
Preheat oven to 400 degrees.
Poke holes in potatoes, wrap in aluminum foil, and bake for 35-40 minutes.
Prepare bacon.
Remove potatoes from oven, cut in half lengthwise, and let cool.
Scoop out all but ⅓ of potato insides.
Cut potatoes in half again horizontally.
Add oil to a large skillet over medium-high heat. The skillet should have about ¼-inch of oil.
Once oil has heated add skins working in batches.
Season with salt and pepper while frying.
Fry skins for about 3-5 minutes per side or until they've reached a golden brown.
Transfer to a greased baking sheet.
Sprinkle each skin with cheese and bacon.
Bake for 8 minutes or until cheese has fully melted and skins have reached desire consistency.
Sprinkle with green onion.
Serve with sour cream.