We are at the week halfway mark! I am exhausted and already day dreaming about my trip back to the bricks (aka OU/Athens for you noobs) this weekend for Brew Week festivities. It is also my soon to be in-laws family golf tournament (aka the Pendy Open). I don't play golf, but I'm REALLY good at riding around in a golf cart drinking Jameson in a golf outfit all day so there's that. Also I'm pretty sure I pulled a muscle in my back from yoga last night (do people do that?).  You know what is helping? This Grilled Cajun Swordfish. *swoon*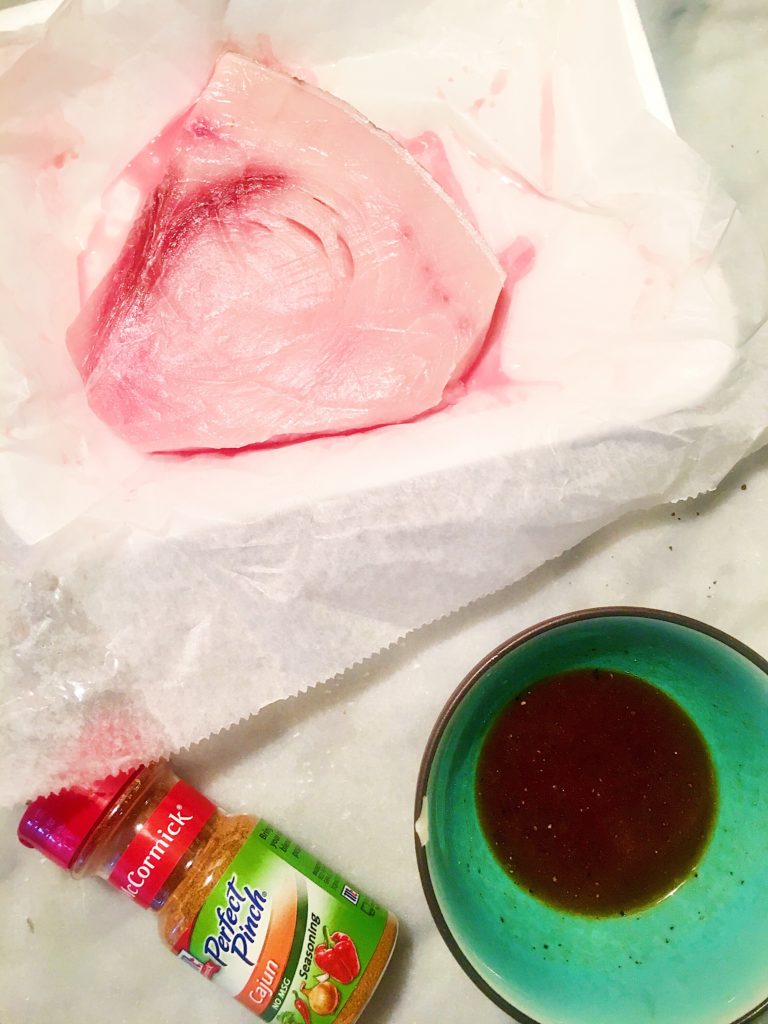 To make this fast weekday friendly recipe, grab some fresh swordfish from your local fish market (or any grocery store with a better-than-average meat department). Mix together white wine, lemon juice, fresh garlic, soy sauce, olive oil, Cajun seasoning (I like this McCormick one), salt & pepper in a small bowl. Pour over fish in a shallow dish making sure to coat each side. Marinate in the refrigerator for about an hour. Grill fish over high heat for about 3 minutes per side.
Swordfish is a slightly sweet fish that can be as thick as a steak. It is packed full of protein & vitamins making it a great option for those of you on low-carb diets. While Swordfish might contain a significant amount of fat, they are heart-healthy fats. Try it out with some couscous and/or a fresh summer salad side if you'd like!

Grilled Cajun Swordfish
Ingredients
1 large Swordfish steak
¼ cup white wine
juice from 1 lemon
2 tbsp. soy sauce
1 garlic clove, minced
1 tbsp. olive oil
1 tbsp. Cajun seasoning
½ tsp. salt
½ tsp. fresh ground pepper
Instructions
Mix all ingredients together in a small bowl.
Place swordfish in a shallow dish.
Pour marinade over fish and place in refrigerator for about an hour.
Grill over high heat about 3 minutes per side.