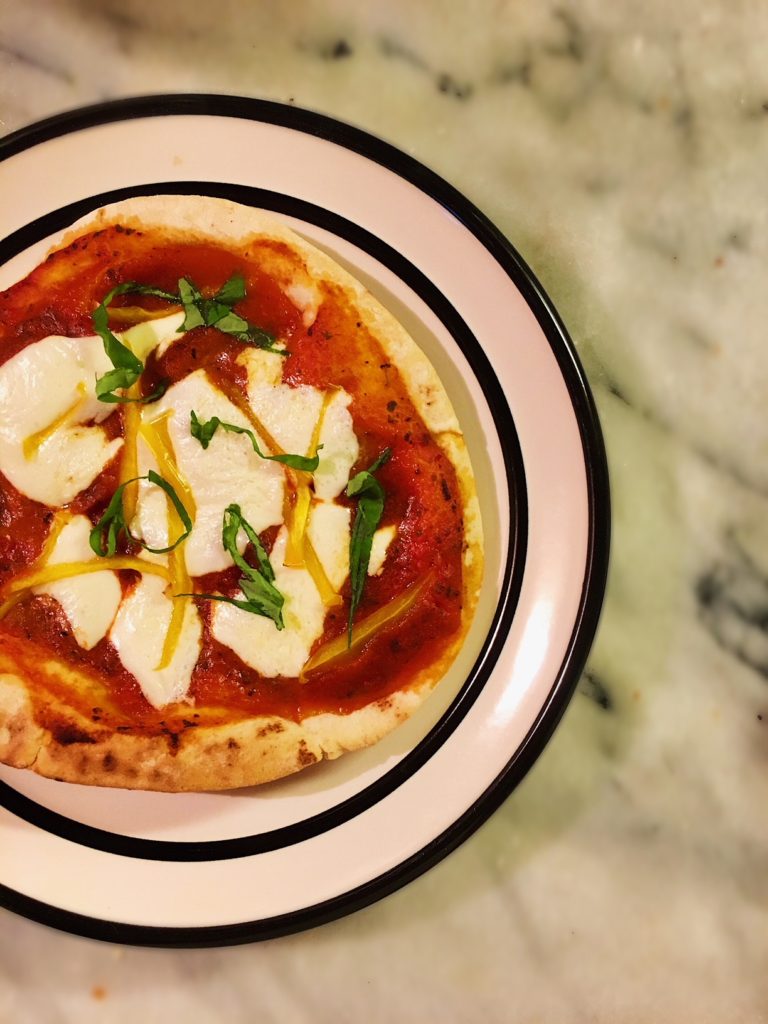 How's everyone's weeks going?! I'm writing to you from my hotel room in NYC at the NoMo SoHo. Whenever I'm in this city I'm always having a good week, however I'm pretty sure this one won't top last. I got some very exciting news…. after fighting the snow and rough commute to my new office in Columbus and starting off the day in a less than perfect mood last Tuesday, I was promoted! Literally the last thing I expected that day, but a very welcome and exciting surprise (obviously). I also found out that I'll now be supporting beauty development for Victoria's Secret! I'll also be supporting face mask development for all L Brands' brands. I'm so excited for the new opportunities! And this means a lot more trips to NYC in the near future (get ready for lots of HH dates my Manhattan friends)! It's true what they say… hard work pays off! (I know I know I'm corny AF.)
ANYWAY enough about me…. let's talk about pizza! Now you see why I posted my homemade pita recipe on Sunday. 😉 I'm also sitting here stuffing my face with NoMo Kitchen pizza from room service, so yaaa life is good! Now obviously you don't HAVE to make your pitas from scratch in order for this recipe to rock. I prefer my homemade version when I have the time but with hectic schedules (especially during the week) I totally understand if you opt for the store-bought version. Here is my recipe though in case you're feeling adventurous:
Once you have your pitas you'll begin by making your pizza sauce.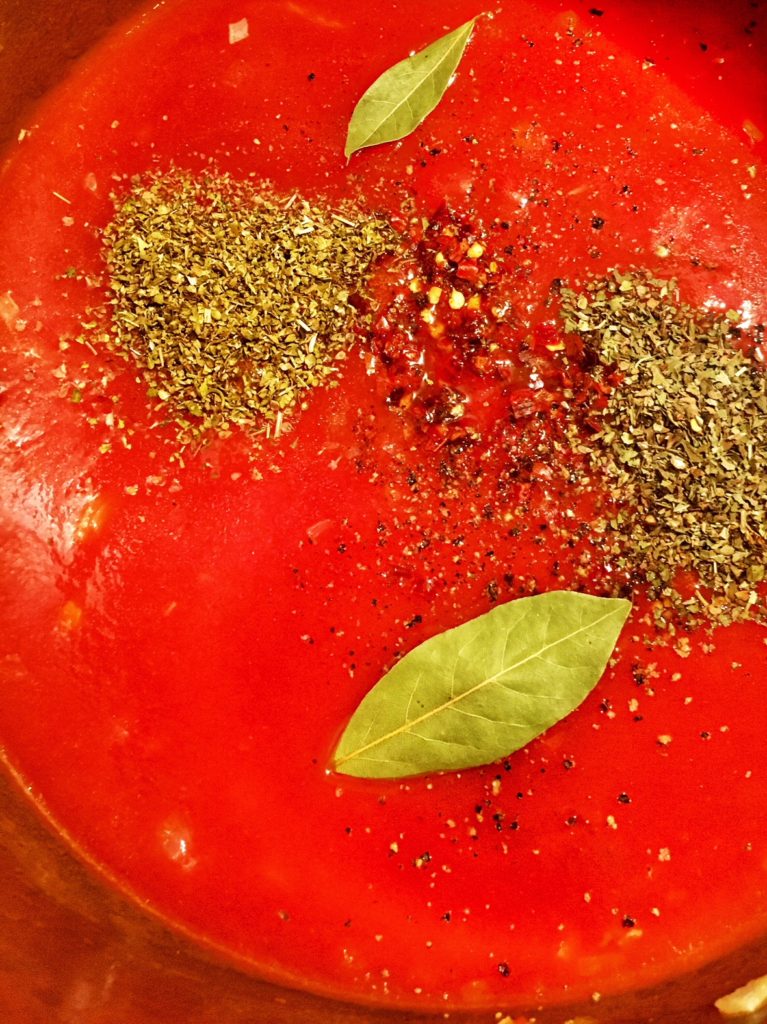 You will need: olive oil, onion, garlic, tomato sauce, tomato paste, splash of dry red wine, oregano, basil, parsley, red pepper flakes, salt, pepper and a couple of bay leaves. Preheat oven to 375. You'll sauté the onion and garlic in olive oil for a few minutes in a medium sized pot over medium heat. Add your tomato sauce, paste and wine. Bring to boil and add your spices. Reduce heat to simmer for about 30 minutes.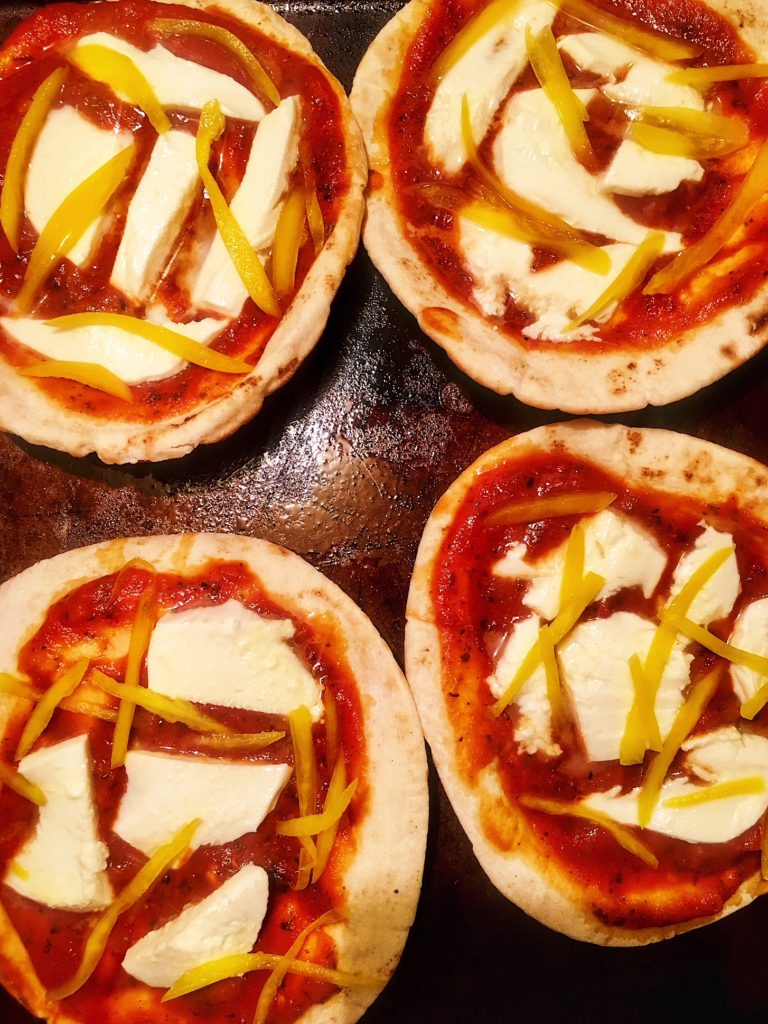 On a baking sheet sprayed with Pam/nonstick spray add a generous helping of pizza sauce and spread evenly. Top with fresh mozzarella and yellow (or any color) pepper sliced thin. Bake for about 20-25 minutes.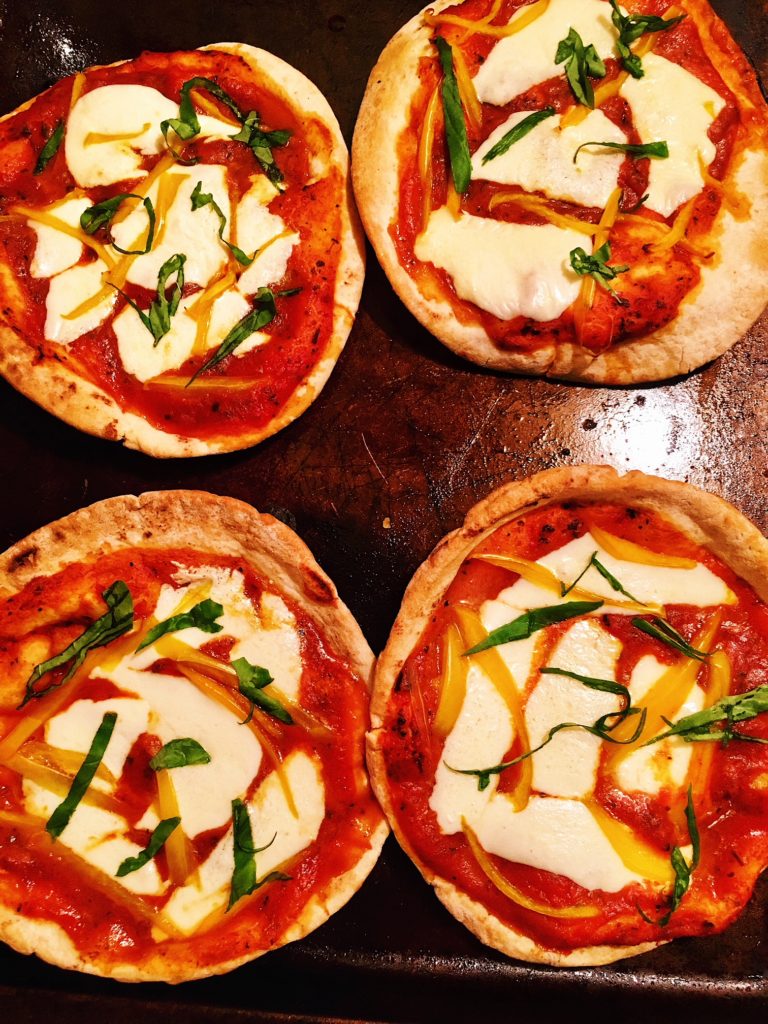 Remove from oven and top with fresh basil. Serve with remaining pizza sauce for dipping. Enjoy and have a fabulous rest of your week!

Pita Pizza (with homemade pitas!)
Ingredients
4 pitas (homemade or store bought)
1 tsp. olive oil
½ onion, diced
3-4 garlic cloves, minced
1 - 15 oz can tomato sauce
2 tbsp. tomato paste
splash of dry red wine
1 tsp. dried oregano
½ tsp. dried basil
¼ tsp. dried parsley
½ tsp. red pepper flakes
½ tsp. salt
½ tsp. fresh ground pepper
2 bay leaves
fresh mozzarella, sliced into think chunks
½ yellow bell pepper, sliced into thin strips
fresh basil, sliced into think strips
Instructions
Preheat oven to 375.
In a medium pot over medium heat add olive oil.
Once heated add onion and garlic and sauté for 3-5 minutes.
Add tomato sauce, paste and wine and bring to boil stirring frequently.
Add spices and reduce heat to simmer.
Simmer for 30 minutes, stirring frequently.
Lay out pitas on a baking sheet sprayed with nonstick.
Top with pizza sauce, cheese and peppers.
Bake for 20-25 minutes.
Remove from oven and top with fresh basil.
Serve with leftover pizza sauce.